What is the Most Environmentally Friendly Way to Dispose of Old Mattresses?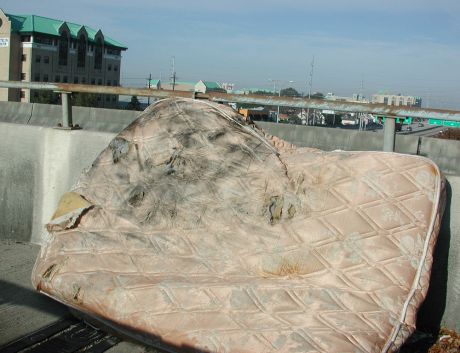 In Austin, mattress disposal is not a simple, straightforward matter. If you have old mattresses that you no longer want, the first step is getting them out of your home, and this can be a difficult task due to their bulk and size. It is especially so if you live on an upper floor in a multilevel apartment complex and must bring the mattresses down. That can turn into quite a workout for most people, and, if you happen to have a bad back, it is practically impossible.
Furthermore, Austin's Recycle & Reuse Drop-off Center does not accept mattresses. And, as per the city ordinances, you cannot throw the mattresses into a trash bin or leave them on the curb in Austin any time you want. So, you will have to find a center that accepts them. As such centers generally expect mattress drop-offs, you have to deal with the issue of transportation next. If you only have a city car, you can't usually fit mattresses into its backseat.
Removing them from your property isn't the only issue, however. You need to dispose of the mattresses in an environmentally friendly way. Every year, millions of old mattresses end up in landfills across the United States, and, since the mattress materials decompose very slowly, they add to the growing problem of pollution in the country.
Fortunately, in Austin, mattress disposal alternatives do abound. Let's look at some of the most environmentally friendly ways to dispose of old mattresses.
Use the Austin Reuse Directory
Many people want to get rid of old mattresses because they have purchased new ones and don't have the space to keep the previous ones. There is nothing intrinsically wrong with these, apart from the fact that they are old and used. If your old mattresses are in reasonably good shape, there is a chance that someone can reuse them. So, instead of relegating them to the trash, you should consider donating or selling them. Many people cannot afford new mattresses, and they may be able to put your old ones to good use. With the Austin Reuse Directory, you can find charities and other places where you can sell or donate your old mattresses.
Give the Mattresses into the Bulk Item Collection
The Austin Resource Recovery department provides curbside bulk item collection twice per year. So, you should check your collection schedule on their website and put your mattresses out on the curb by 6:30 a.m. They will then collect them. Please note that, aside from these scheduled times, you cannot put the mattresses out on the curb at any other time.  If you do that, you will receive a dumping citation and even a fine. Also, make sure that you don't place the mattresses near to any cars, trees, wires, and mailboxes.
Hire an Austin Mattress Disposal Service
One of the best options for mattress disposal San Antonio, Austin or nearby locations is hiring a junk removal company that accepts mattresses. The principal benefit of such companies is that they will pick them up from your property.  Just direct the company crew to where they are, and they will do the heavy lifting. Also, they will dispose of the mattresses in the way you want. Depending on their state, you can ask them to donate these to a charity center or take them to a recycling center. If neither option is possible, the mattress recycling Austin company may find other viable ways to dispose of the old mattresses. You can rest easy and relax.
Send the Mattress to a Local Landfill
If your mattresses have mold, are moth-eaten, are flea-ridden, or are otherwise ruined, it may not be possible to recycle, reuse, donate, or sell them. In that case, you can send them the local landfill. You will have to pay a fee for this. It should, however, be your very last option. As mentioned earlier, old mattresses already overburden the landfills.
For citizens in Austin, mattress disposal in an environmentally friendly way is no longer optional. The adverse impact that old mattresses have on the environment can affect all our lives ultimately. So, it is crucial that everyone behaves responsibly and does what is right for the entire Austin community.